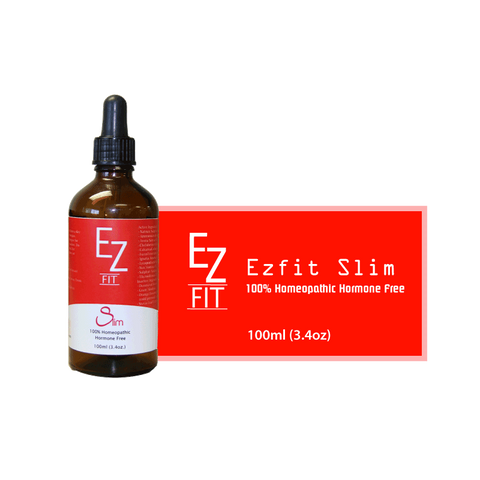 EzFit Slim Weight Loss Drops
---
Homeopathic Hormone Free
This unique formula has 4 main functions, to curb your appetite, enhance your fat burning ability, detoxification and to support in the elimination of the fat and toxins from your body. With a healthy caloric intake diet and combined with EzFit Weight Loss Drops, proper and healthy weight management can be achieved.
Directions:
Adults take 15 drops or about 0.5ml three times a day under the tongue. Leave drops under the tongue for 20 to 30 seconds then swallow. Do not consume food or drink for about 15 minutes before or after taking drops.
For Optimal results take 15 drops (0.5ml) of the Ezfit Weight Loss Drops 3 times a day with either 1 ml Injectable B12 a day (best in morning) or 10 to 15 drops (0.5ml) of the Sublingual B12 drops three times a day. Follow with two drops of the Vitamin D drops once a day in the morning. For the EzFit Weight Loss Drops, the Sublingual B12 drops and the Vitamin D drops hold in mouth under tongue for 20 to 30 seconds then swallow. EzFit drops may be taken by adding them to a small amount of water for those sensitive to the taste.
This formula is made up of 100% homeopathic ingredients recognized by the Homeopathic Pharmacopoeia of the United States.
EzFit formula includes:
Natrum Sulphur 6X and Chelidonium Majus 6X these ingredients support liver function and improve fat metabolism, also helps with indigestion.
Pulsatilla 6X, known to lessen hunger and "not able to feel full" feelings, also helps with metabolizing fatty foods.
Fucus Vesiculosus/Sea Kelp 6X helps with low energy helps with sluggish metabolism and support the thyroid gland.
Thyroidinum 12X Suppresses appetite for sweets; tends to eliminate nausea, indigestion, rejuvenates sluggish thyroid as Thyroid rejuvenation is crucial for increased metabolism of fat, as the thyroid gland controls metabolism.
Calcarea Carbonica 6X and Graphites 6X are added to boost metabolism, lessen excessive appetite, lessen bloating, and improve energy.
Lycopodium Clavatum 6X supports liver function and the elimination of waste, curbs carbohydrate and sugar cravings.
Sulphuricum Acidum 6X ease cravings for carbohydrate and sweets, helps with excessive morning appetite.
Ammonium Bromatum 6X, to suppress appetite and headaches. Avena Sativa 6X, is used to detoxify the body, reduce anxiety, decrease cravings, and improve sleep habits.
Ignatia Amara 6X, great for the Digestive process, aids with Tummy aches or indigestion, helps eliminate the craving to over eat.
Nux Vomica 6X, helps with nausea, sour burping, bloating a few hours after eating, indigestion, heartburn and digestion after effects after eating rich foods, spicy foods or overeating.
Inactive Ingredients: Deionized Water, Grain Alcohol 20%
Warning: If pregnant or nursing, Do Not Use for weight loss.
Cautions:
DO NOT TAKE large doses of vitamins (megadoses or megavitamin therapy) unless directed to by your doctor. IT IS IMPORTANT that you keep all doctor and laboratory appointments while you are using this medicine. BEFORE YOU BEGIN TAKING ANY NEW MEDICINE, either prescription or over-the-counter, check with your doctor or pharmacist.