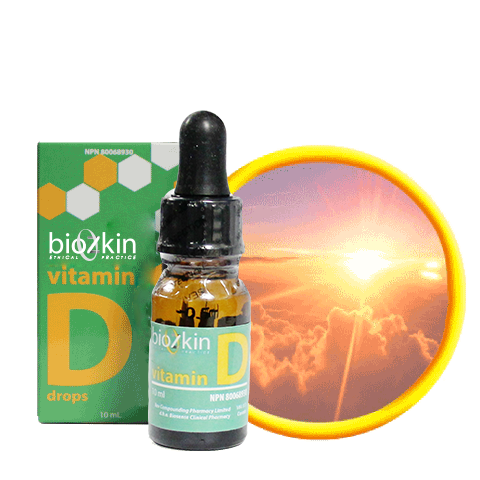 BioZkin Vitamin D Drops
$16.99

$16.99

Save

$3.00

Save 15%
---
---
NPN 80068930: Health Canada Licensed Natural Health Product
Recommended Usage
For maintenance of good health and for development and maintenance of bones and teeth. Aids in absorption and use of calcium and phosphorus calcium intake.
Recommended Dosage
1 drop per day or as directed by a health care professional. May be taken with or without food.
Medicinal Ingredients
Vitamin D3 (Vitamin D, Cholecalciferol) 25 mcg (1000 IU) per drop – Naturally derived, biologically active.
Non-Medicinal Ingredients
Sunflower Oil and Vitamin E – a stable and healthy natural base solution.
Contains no preservatives, colour, sweeteners, wheat, gluten, dairy or yeast.
Warning
Consult your health care practitioner before using any health supplement, especially if you are pregnant or nursing, anticipate surgery, take any medication or are under medical supervision.
Consult with a physician before taking vitamin D if you have sarcoidosis, liver disease, lymphoma , kidney disease, hyperthyroidism or tuberculosis.
Vitamin D drug interaction information
Phenobarbital, Cholestyramine (Questran), orlistat (Xenical), colestipol (Colestid), phenytoin (Dilantin), and mineral oil may interfere with vitamin D absorption and metabolism. If you are taking any of these drugs you may need to increase your dose of vitamin D.
Consult with a physician before taking vitamin D if you are using thiazide diuretics or digoxin (Lanoxin).
Recommendations
Corticosteroids (prednisone, prednisolone) increase the need for vitamin D.
Do not use if safety seal is broken.
Keep out of reach of children.
Store tightly sealed in a cool, dry, dark place.